Kiekko
Here is Kiekko, a rather short shawl but of a beautiful scale to allow it to wind around the neck.
For this pattern, I wanted to create a shawl which would use only a hank of thread merino, knit in 3,5 (that is 400m, the most current ) and which would combine lace and stockinette stitchs place to emphasize the nuances of the threads dyed by hand.
Matérial:
400 m of fingering weight yarn
3,5 mm (US4) needles
Gauge:
24 sts x 32 rs = 4″ x 4″ (10 x 10 cm) in stockinette st with 3,5 mm (US4) needles
Size:
158 cm x 40 cm
This pattern is available in english and in french. When you buy this pattern, you can download 2 files (1 in english and 1 in french)
Written instructions and charts
You may also like…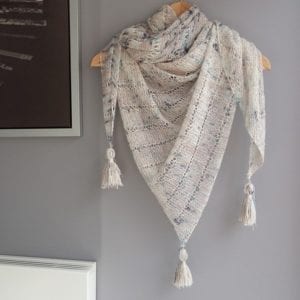 Soolight
Soolight is worked in garter stitch, side to side.
This is a light and airy shawl, ideal for spring or summer evenings and it is fully reversible.
This pattern was created for lace weight yarn but if you want a warmer shawl you can knit it with fingering weight yarn.
Gauge:
22 sts x 36 rs = 4" x 4" 10 x 10 cm in garter st with 3,5mm (US4) needles
Size:
82,6" x 33,5" 210 cm x 85 cm
Materials:
Soobelleyarn, Soofine (1093 yds/1000m for 100g), 1 skein, or 875 yds/800m of lace weight yarn
Soobelleyarn, Soofine, 3 x 33 yds/30m, or 3 x 33 yds/30m of lace weight yarn for the 3 tassels
3,5mm (US4) needles or needles necessary to obtain the correct gauge
5mm (US8) needles for bind off
not rated
4.50

€
Add to cart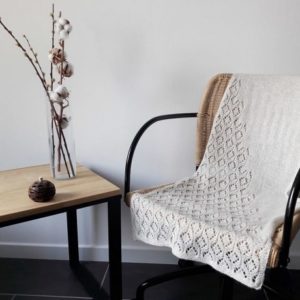 Lesi Stole
Lesi Stole is a stole in lace and stockinette st.
You will be able to wear it all the year : wrapped around your neck as a scarf in automn or winter or on shoulders to war up your summer outfits.
There are 2 sizes : the little one for only wear it as a stole and the biggest to wrapped around during winter.
Materials :
about 774m / 1200m of fingering weight yarn
3.5mm (US4) needles
Gauge : 25 sts x 30 rs = 4"x 4" in stockinette stitch and 3.5 (US4) needles
Little size (stole): 75,6″ x 17,7″ (192 cm x 45 cm)
Large size (stole and scarf): 117,3″ x 17,7″ (298 cm x 45 cm)
There is a shawl version of this model : Lesi Shawl.
The shawl on the photo was knitted with 2 skeins of MSW from Yarn By Simone, color John Snow.
not rated
4.50

€
Add to cart
Syrma
Syrma is a big and comfy shawl with textured stitches disposed as a star rain.
Size:
175cmx66cm
Gauge:
26 sts x 34 rounds = 10x10cm in stockinette st with 3.5mm (US4) needles
Materials:
The Uncommon Thread, Uncommon everyday (400m for 100g) 2 skeins or 800 m of another fingering thread
3.5mm (US4) needles
1 marker
not rated
4.50

€
Add to cart