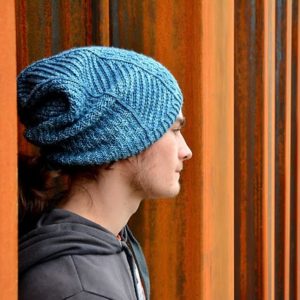 Iberis
Iberis is worked in the round with circular needle.
This hat is proposed in several versions :
– Two textured stiches for women or men.
– Two styles : beanie or slouch.
The central stiches consists of crossed stitches knit without cable needle (instructions in pattern).
4.00

€
Add to cart
Olmo
Olmo is the perfect hat and cowl to bundle in the winter.
Offered in different sizes and versions to keep the whole family warm.
The girl version of the hat is decorated with a button and a fake buttonhole, while the boy's version is classic and discreet.
This hat has a slouch shape except for the child's version.
As for the cowl you can knit the longer version with 3 buttons or the more classic short version.
You can create your favorite combination by mixing all the different possibilities.
4.50

€
Add to cart