Lopta
Lopta is a hat and a matching cowl with nice cables and bobbles to protect you from the winter cold.
Lopta I available in 4 sizes, so it is perfect for warming the whole family.
You can even knit a men's version by knitting the cable without the bobbles.
4.50

€
Add to cart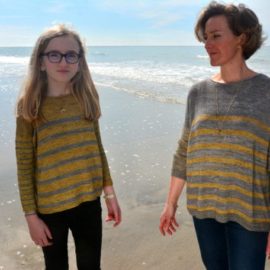 Little Otway
Little Otway is a modern sailor with different sized stripes on the body and the sleeves.
It is easy to wear and also available for women from XS to 3XL (Otway), so do not hesitate to form nice mother-daughter duets !
This sweater is knitted seamlessly from the top down. It starts at the shoulders, with some short rows and increases for the neckline.
The back and the front are worked flat up to the armholes and then joined to continue the body in the round.
The sleeves are picked up at the armholes and also worked in the round
5.50

€
Add to cart
Hibbis
Hibbis is a cardigan to wear over a strappy dress to stay warm on Spring days or Summer evenings. This is a seamless cardigan knitted from the top down with an attractive lace pattern that feminizes it and gives it a small retro touch.
5.50

€
Add to cart